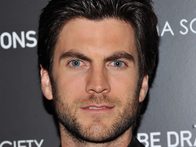 Актёр присоединится к Леди Гаге в новом сезоне сериала.
Канал Fox продлил фэнтезийную драму "Сонная Лощина" на третий сезон. Как сообщает издание The Hollywood Reporter, после того как шоураннер сериала Марк Гоффман покинул проект, с третьего сезона его обязанности будет исполнять Клифтон Кэмпбелл ("Болота", "Белый воротничок").
Arrow: Oliver Gives His Answer To Ra's Al Ghul's Offer
Bad news for you John Williams fans out there, as the famed composer had to pass up scoring duties on Steven Spielberg's latest picture. However, there's still some good news as his replacement is a composer with a stellar reputation of their own.
Международный трейлер фильма "Особо опасна"
Кадры к сериалу "Игра престолов"
Prepare to see the ultimate classic car restoration, as the DeLorean gets the star treatment in "Out Of Time: Saving The DeLorean Time Machine."
This week, the HBO released a brand new video that looks at Varys motivations and intentions moving forward. It's fascinating stuff. No dragons, though.
Thanks to his role as Rorschach in Zack Snyder's Watchmen, Jackie Earle Haley already has some big time comic book movie cred on his resume, but if new rumors are to be taken seriously, he may soon find himself in the growing DC Cinematic Universe playing the role of The Thinker in David Ayer's Suicide Squad.
Kuala Lumpur will be hosting the 16th edition of the International Indian Film Academy awards from June 5 to June 7 at Stadium Putra Bukit Jalil. The prestigious event honours achievements in the Hindi language film industry.
StarCraft 2: Legacy of the Void, the final expansion pack, will enter closed beta later this month. Today Blizzard announced the launch date for the beta along with some details on what players can expect from the test.
It's been more than 20 years since Hollywood last took a whack at a big screen adaptation of author Louisa May Alcott's classic novel Little Women, but the time has come around again. A new version of the story is now in the works at Sony Pictures, and new reports have revealed that Sarah Polley has been assigned to write the new film.
As the late night talk show circuit is in flux with hosts coming and going willy nilly, viewers looking for something more out of this world will be happy to know that genius astrophysicist Neil DeGrasse Tyson has set a premiere date and a stellar guest list for his upcoming series StarTalk.
This season, however, as the show moves further and further away from the George R. R. Martin Song of Ice and Fire novels that provided the outline for the first four seasons, some characters who we thought were potentially safe may not be safe at all.
10 Great Movies To Watch Before Netflix Gets Rid Of Them On April 1
The Flash Rogue Time Trailer Explains The Consequences Of Time Travel
The Jinx Didn't Even Cover The Most Insane Thing Bob Durst Allegedly Did
Курс юного антифашиста

Параноидальный мир закрытого Чикаго разделён на пять фракций, членами которых становятся люди, наделенные определенными чертами характера и профессиональными обязанностями. «Отречение» собирает альтруистов, «Эрудиция» — умников, «Бесстрашие» — воинов-храбрецов, «Искренность» — честных, а «Дружелюбие» — добряков-пацифистов. В этой строгой системе нет места тем, кто не вписался ни в одну из категорий, дивергентам — обладателям черт сразу нескольких фракций. Такие разносторонние люди считаются опасными. После неудачной попытки полностью истребить членов «Отречения» коварная Джанин (Кейт Уинслет) из Эрудитов берёт власть в свои руки и сразу объявляет охоту на внутреннего врага. Действие разворачивается вокруг запечатанной коробки с посланием от основателей системы. Это сообщение может пролить свет на прошлое дивергентов и помочь им изменить будущее.
Постер к фильму "Голодные игры: Сойка-пересмешница. Часть 2"
Постер к фильму "Макс"
Ссылки