Ссылки
Адель может дебютировать в кино. Певицу зовут на одну из главных ролей в шпионский боевик "Секретная служба"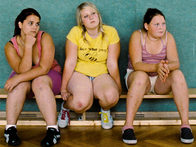 Полненькую девочку-подростка привозят в некое подобие пионерлагеря для похудания, где она большую часть времени проводит за физическими упражнениями и общением с такими же полненькими девочками и мальчиками. Еще там она влюбляется. Правда, не в мальчика, а во взрослого мужчину, врача, который систематически проверяет у ребят вес и самочувствие. Это, собственно говоря, сюжет нового фильма Ульриха Зайдля, заключительной части его «райской трилогии». Его фильмы всегда лишены моральной оценки и представляют собой простое наблюдение за человеческой природой, во всяком случае, про это говорит сам режиссер. Если насчет предыдущих картин Зайдля это заявление звучало несколько спорно, то в отношении «Рая: Надежды» оно кажется наиболее уместным. Первую любовь не вернешь назад, как пела одна девушка в 90-е, и, хотя в названии фильма фигурирует совсем другое слово, именно это чувство, беззащитное, трепетное и хрупкое при всей его подростковой нелепости, подходит больше всего. Это самая нежная и невинная работа режиссера на сегодняшний день, несмотря на, казалось бы, опасную в ...read more...



Создатель "Запределья" Тарсем Сингх снимет фантастический фильм под названием "Паноптикум". Речь в картине пойдет о герое, спасающем мир
Ever since Kat and Anushka came together in Jab Tak Hai Jaan , the two have been in the news coz their personal equation keeps changing.
And Film Centipede's return!
Дублированный трейлер №2 фильма "Пленницы"
Дублированный трейлер фильма "47 Ронинов"
They're back!
Today Volition released the Saints Row 4 Inauguration Station. This program allows you to create your SR4 character before the game's launch later in the month.
If you're not a Broadway aficionado you may recognize Bundy from any number of small parts, from a two-year stint on Guiding Light around 2000 to recent recurring roles on both How I Met Your Mother and Hart of Dixie. She's also a country singer
A veteran pot dealer creates a fake family as part of his plan to move a huge shipment of weed into the U.S. from Mexico.
He's at the top of the list
Bollywood actress Deepika Padukone says her next Tamil film "Kochadaiyaan" is an international project as it will be released in multiple languages like Russian, Japanese and Chinese.
Any film that Blomkamp made as his second feature was going to be born in the shadow of District 9 and impossibly high expectations. Elysium, sadly, doesn
Gemini Film Circuit is producing a film titled Madha Gaja Raja. This film is being directed by Sundar C. Vishal, Anjali and Varalakshmi Sarathkumar have starred in this film. The shooting of this film was completed even before the release of the film Theeya Velai Seiyanum Kumaru directed by Sundar C.
Cinema News From Tamilomovie.com
Gallery - Irandam Ulagam Movie Shooting Spot
The post production works of this film is going on in top gear. Importance for comedy has been given in this film. Vijay Anthony has composed music for this film. Madha Gaja Raja will hit the screens on 6th of September.
Cumberbatch-mania continues.
A tax dispute halts profits.
Da Vinci


Now we're actually interested.
Next week Guild Wars 2 will celebrate the tenth year of Queen Jennah's reign. Players are cordially invited to participate in the Queen's Jubilee at the human capital of Divinity's Reach.
Ссылки